Amazon has added another set of smart devices called Smart Plug. Since its release, it has been the best seller for Amazon and is highly rated by all users. This Smart plug opens up a lot of options for home automation. These are quite simple and easy to use.
What is a Smart Plug ?
In simple terms, A smart plug is nothing but a normal electrical plug that allows home automation using your wifi connection. You can control any device connected to this kind of plug using Amazon Alexa/Google Assistant/Apple Homekit.
For eg. You can voice control your lights, fans, AC, TV, etc
Pros vs Cons ?
Below are the pros and cons of the Amazon Smart Plug.
Pros:
Compact Design.
No Smart home hub required. You can connect it directly to the wifi router.
Quite responsive to voice commands.
Cons:
Only connects to 2.4 GHz Wi-Fi network.
Only works with Amazon Alexa. So, if you have Google Assistant, then it won't work.
A bit costly as compared to other competitor products.
How to setup Amazon Smart plug ?
Download or update Alexa app on your mobile. Make sure you are having the latest available version of Alexa app.
Plug in the smart plug in the power outlet and open the Alexa app.
Select the "Devices" button and then click on "+" symbol to add a new smart device.
4. Click on "Add Device"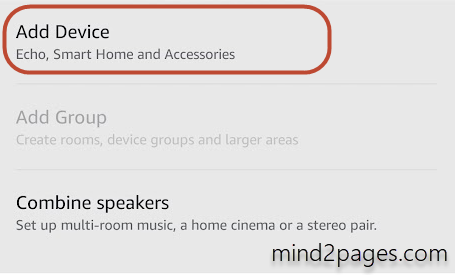 5. Select "Plug"
6. Select the brand of the plug, that is "Amazon"
7. Follow the instructions given on the below screen and click "Next"
On the next screen, the Alexa app will search for the smart plug. It should now be able to connect with the smart plug successfully.
Is your Amazon Smart plug blinking red?
If your smart plug is blinking red, then Alexa won't be able to connect to it. This may happen due to some connection issues.
Try restarting the smart plug. Unplug the device and plug it back in to restart the plug.
If still it doesn't work, then you will have to reset the plug as mentioned in below point.
How to reset your Amazon Smart plug?
Press and hold the button on the plug for around 12 seconds.
Release the button once you see the red light.
You should now see a blue light. This confirms that the reset is now complete.
Now you can re-register the smart plug in the Alexa app.
What to do if your smart plug suddenly stopped working or is unresponsive?
Follow the same steps as above.
Restart the smart plug by unplugging it from the power outlet and then plugging it back in.
Reset the plug: Press and hold the button on the side of the smart plug for about 12 seconds.
Alexa is unable to discover your smart plug
Make sure that the smart plug and Alexa app are on the latest available software version.
Amazon smart plug and the Alexa device is connected to the same Wi-Fi connection.
Both should be connected to a 2.4 GHz Wi-Fi network.
Check if the Alexa device, Wi-Fi router and the smart plug are all within 30 ft (or 9m) distance. Try to bring the devices closer to the Wi-Fi router to see if it works.
Try restarting and/or resetting your smart plug.
Check this blog for more troubleshooting steps: Echo devices having Wi-Fi issues
Will it work with Google Home assistant?
Unfortunately, Amazon smart plugs do not support Google Home assistant. But there are certain workarounds in place to make it work. You may follow the steps provided in the below blogs.
How to Integrate Amazon Smart Plug with Home Assistant – This will need an additional Home Assistant cloud subscription.
Amazon Alexa Smart Home Skill – For this, you will need an AWS 12-month free tier account.
Is it still available for 99 cents ?
Yes, the 99 cents deal is still available if you use the coupon code of PLUG. But there is a catch. This may only work if you have received this offer directly from Amazon on your social media account or on Amazon.com
Your Smart plug is heating up?
It's quite normal if your Amazon Smart plug is getting warm while being used. But it should not exceed more than a certain limit. The ideal operating temperature is 32°F to 95°F (0°C to 35°C). What you can do if the temperature exceeds this value?
Make sure there is enough ventilation for the plug to work properly.
Do not keep it very close to a heating device.
If still gets overheated, then you will need to contact the Amazon service for more information.